As you probably know, one of the great things about using Skype as an instant messaging service is that it keeps a detailed history of your chats. Whether for business or personal use this is great since it means you can always go back and browse through your history if someone said something important that you didn't take down.
Unfortunately that same history does not extend to your video calls. Basically this isn't unexpected since it would be a tall order to expect Skype to store weeks, months, or even years of video calls on behalf of their users – the space that it takes up would be tremendous.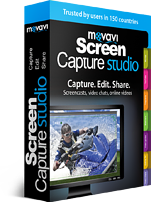 Still, it means that if you want to revisit a call that you made previously and pull out some nuggets of information from it – you can't. That is what bugs many people, but most tend to feel they have no alternative since there's no available option to record Skype calls.
If you're using Movavi Screen Capture Studio however – you have that option.
By simply setting the software to capture the region of your Skype call, you can effectively record, edit, and save your Skype calls. The best part is that you can even compress them to a friendlier format if you want to conserve space.
The reasons why you should be seriously considering using Movavi Screen Capture Studio to record your Skype calls are:
It is tremendously easy. With a simple click or two, you could record your Skype calls and save them once they're done.
It doesn't require any prior knowledge. Unlike other software, everything about Movavi is particularly beginner-friendly so you really don't need any knowledge of video formats, editing, and so on.
It will allow you to optimize and save your videos. With the many available presets, the Movavi Screen Capture Studio caters to an entire range of devices – including mobile platforms.
It has tons of features. For example, the ability to set your audio source, set a timer for the recording, and even tools to edit it later on.
As you can see, the real question you should probably ask is: Why wouldn't you want to use the software? If you're looking for a convenient, user-friendly, and feature rich solution, this really is the best blend of all three and once you try it for yourself you'll see why.