Moving to a new house and environment changing is very stressful and overwhelming for everyone involved. There are various reasons that may lead you towards the moving decision: business and education opportunities, desire to change the environment/neighborhood, financial troubles, intention to buy bigger house, cohabitation with a boyfriend/girlfriend/friend. Moving procedure is composed of several stages, but the situation gets even more complicated when there are children involved.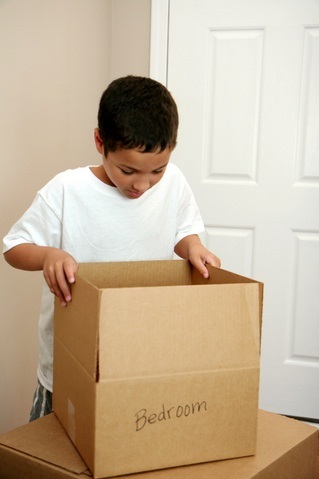 Moving might be tough on the children, so be very gentle and considerate while informing them about the decision to move to a new house. Children at first don't really understand the reasons for such decision. Given their age, they do not have insight into the financial situation and they aren't familiar with your plans for the future. Children don't share experiences of their parents, so parents shouldn't expect them to understand and accept immediately the idea of moving to another house or another city. Basically, it's up to you to change their negative perspective. Present the whole situation as an adventure and involve them in similar decision as much as you can. Make them feel useful and that their input is valuable to you. At the beginning, they are focusing on negative aspects like losing friends, changing school and they are often questioning their own security. It's up to you to cheer them up, to inform them about all advantages of the new environment, to turn all the sadness and skepticism into the family adventure and make it more acceptable.
So, an open communication with children might be the first step towards overcoming disagreements. If possible, make your child an active participant in some relevant decisions like researching schools, activities,…Although you are moving to another community or city, your children should go ahead with their hobbies or extra-curricular activities, so do your research on the internet and help your children overcome the disbalance of the daily routine that have experienced. Also, it's highly recommended to take your child to visit a new city, new school. Being occupied all the time before the very moving day, they will disregard negative attitude they had at the moment they found out about the move. Involve them in packing of some personal things, decorating their new room, choosing the furniture,…Encourage them to express their wishes and preferences and convince them that their requirements will be taken into consideration. If you have some doubts about the moving timing, according to the previous experiences, winter turns out to be the most convenient period.
Moving companies charge less during winter and you may also obtain some additional services for free. In order to avoid additional stress, if you need professional help, make sure to hire honest moving company. Being a NYC resident, you have a lot of serious movers at your disposal. One of the most reputable ones is certainly Dumbo Moving and Storage. However, be well-informed about all offers on the moving market and choose the type of assistance that would suit you best. Save your energy as much as you can and be there for your child, regardless of the obligations, effort and stress related to a moving process.