Choco-Delight, Cupcakes, brownies, black forest and the list goes on. The first thing that comes to you when you hear all these is parties and a huge smile spreads all around our face. This is the effect of "Cakes". You just cannot do without them. Be it your child's 1st birthday or your friend's 21st, cakes are a must to celebrate the occasion. Be it your 1st anniversary or your parents' 25th, cakes are again the primary element to mark the special day. Bigger the occasion, better and expensive the cakes!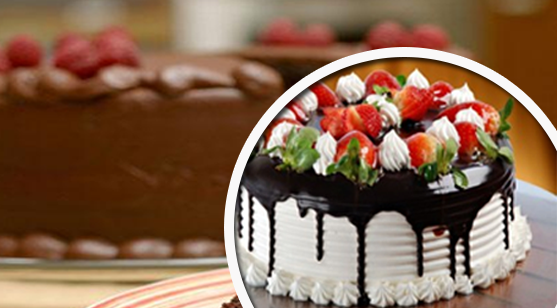 Before going on to the other details of cakes, let us find out what makes these cakes such a delicious food item. The key ingredients for making these are unsalted butter, flour, salt in the right amount (depending upon the type of cake wanted), eggs, and superfine sugar crushed more to make powdered. On top of these, vanilla extracts, kirsch, cream, dark chocolates, Dutch process cocoa, cookies, fresh fruits provide the toppings. All these items mixed in the right amount and processed properly make the cake what it is.
For different occasions, different types of cakes are there. If it is a wedding, generally we go for tiered cakes. Tiered (2-tier, 3-tier, etc.) cakes are the ones having different layers and usually ordered for a large gathering. These cakes are generally called Novelty Cakes. They are creatively made and it points out the significance of the event. There are also other categories of cakes. Cakes have become so important nowadays that companies/ suppliers have categorized them into various categories. Such categories include Novelty Cakes, 21st Birthday cake, cakes for toddlers, anniversary cakes, theme cakes.
So, what is different among these cakes? They taste similar, right? Yes, they do. But, the cake you order for a five-year-old birthday and one for a 21-year-old party will be a bit different. A five-year-old will prefer a theme cake with cartoon characters, jungle theme, etc. while a 21 year old will be satisfied with the taste of dark chocolates. Also, eggless cakes are the order of the day for toddler's birthday party as it is safe, rich in vitamin and also is less sugary. Fresh fruit cakes prepared with pineapple, strawberry, orange, and blueberry are the main cake- making fruits. Although, people have a craving for chocolate cakes, these cakes are equally delicious and contain fewer preservatives. They also help in cutting down on cavities.
While ordering cakes for important occasions and also from famous stores all over the world, we must ensure a few things. The occasion and the service provider are the two most important things to keep in mind while ordering a cake. A cupcake can be used as a corporate gift along with a bouquet or other things while for birthdays and anniversaries, cakes are more suitable. Also, if cake delivery in UK has to be done, to ensure that the cakes remain fresh and in the best possible shape, it is to be ordered from the reputed store only, so that it takes less time to get delivered.