Does a trip through your kitchen make you feel as though you've gone back in time? If your decades-old kitchen has you feeling down, but you don't have the budget for a full remodel at this time, there are several steps that you can take to improve your current space. Here are four of the most inexpensive ways to make your old kitchen shine – all it will take is a couple hundred dollars and a weekend-worth of work.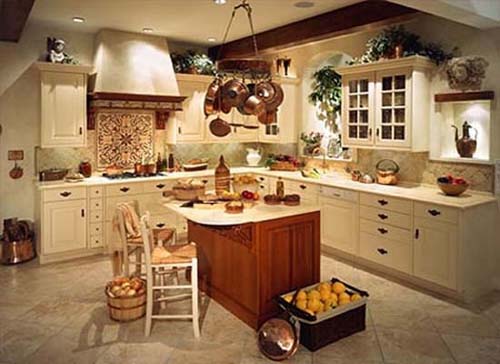 Add some under Cabinet Lighting
Do you feel as though your kitchen is too dark? Under cabinet lighting is an inexpensive way to brighten up your space and simplify the meal preparation process – no more fumbling in darkness for your spices and putting chili powder into your chocolate chip cookies instead of cinnamon. You can purchase small under cabinet lights at your nearest home improvement store, or online from a specialty lighting retailer. If you have a handy family member, consider inviting them over one Saturday to help with the installation process.
Incorporate Color into your Space
One easy way to make your 'blah' space feel bright is by adding some color. Incorporating color can add some cheer and lightness to your tired old kitchen. Whether you choose to repaint the walls, swap out your kitchen textiles in favor of bold, cheery tones, or add fresh cut flowers to your counter, there are a number of quick ways that you can improve your kitchen by adding some color. The best part is that all of these suggestions are relatively inexpensive, simple fixes.
Increase Counter Space with a Portable Island
One of the most frustrating things for people who love cooking is a lack of counter space. If this is a problem in your kitchen, you may want to consider purchasing a portable island so that you have some extra room. Portable islands are a space-saving solution that will help you add the extra prep space you need for making large family meals. Eventually, you may want to upgrade to a permanent island, but for now a portable one will help you feel more comfortable in your kitchen.
Swap Out Old Fixtures
Are the faucets and towel bars in your kitchen completely lackluster? Swapping them out is relatively simple, and adding new fixtures won't leave you feeling financially stretched. If you are interested in upgrading your existing kitchen fixtures, start your search online at specialty stores. You'll find a wider array of options than you would at your local home improvement store, at competitive prices. A faucet and fixture upgrade is an easy way to transform the look of your older kitchen.
Improving the look of your kitchen doesn't have to break your budget. If you don't have the money for a full remodel, don't fret. Adding some under cabinet lighting, incorporating some color into your space, creating more prep space with a portable island, and swapping out old fixtures in favor of new ones can help modernize your dated kitchen.