Bologna is a perfect destination for those who prefer a quiet vacation, like art, ancient architecture and know how to appreciate delicious Italian cuisine. Many interesting museums, beautiful buildings with countless arches and the oldest university in Europe are the major attractions of the city and some of them are worth special mention. In the article, the most interesting museums of Bologna are represented.
Ducati Museum (Museo Ducati)
Address: Via Antonio Cavalieri Ducati 3, 40132 Bologna
Operating hours: You should book tour in advance
Admission: 10 EUR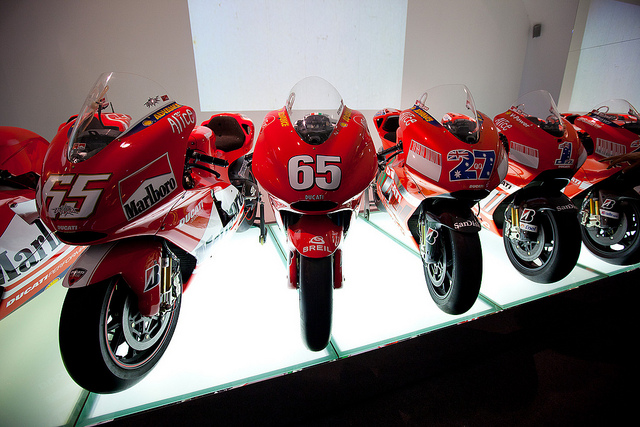 First of all, you should remember that you can't visit the museum every day, and it's necessary to register for a tour in advance. The museum is dedicated to the development and formation of the world famous Italian brand of motorcycles. Perhaps, such huge number of shining motorcycles you won't find anywhere else in Italy!  Rich collection of Ducati bikes of different years will not leave anyone indifferent! In addition, you'll be even allowed to visit some parts of shop on manufacture of bikes!
Museum of Anatomy and Pathological Histology (Museo Delle Cere Anatomiche)
Address: Via Irnerio 48, 40126 Bologna
Operating hours: Monday – Thursday: 10-00 – 13:00; 14:00 – 17:30; Friday: 10:00 – 14:00
Admission: no charge
It's a quite peculiar museum housing numerous wax models of body parts and organs both normal and affected by diseases. In fact, the museum is created especially for students of medical specialties, but all models have simple descriptions, so even usual visitors might find this place interesting and educative.
Museum of ice-cream (Gelato Museum)
Address: Via Emilia, 45, 40011 Anzola Dell'emilia
Operating hours: Monday – Saturday: 9:00 – 18:80; Reservation beforehand is required
Admission: from 5 to 45 EUR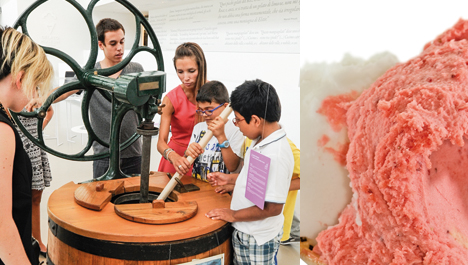 The cheapest ticket allows you to visit the museum itself, but you can pay more and enjoy tasting of different kinds of ice-cream, or participate in master class where you'll learn how to make your own delicious ice-cream.
Gelato Museum opened relatively recently in 2012 and became quite popular among ice cream lovers. Here you will learn when and by whom ice-cream was first invented, who the author of the first recipe is, how people made ice-cream when there weren't refrigerators.
After an exciting excursion full of interesting facts, you will be able to distinguish the ice cream from sorbet or sherbet. Gelato museum also offers training labs for children and team building for companies.
Museum of Comparative Anatomy (Museo di Anatomia Comparata)
Address: Via Selmi 3, 40126 Bologna
Operating hours: Monday – Friday: 9:00 – 14:30
Admission: no charge
The museum was founded in 1814 and today it contains an impressive collection of skeletons of animals and various specimens allowing you to learn more about animal development. The real proud of the museum is a huge skeleton of whale, which is the largest one in Italy.  In addition to animal remains, visitors can also get acquainted with various instruments used by scientists in their researches. That is microtomes, syringes and microscopes of different kinds and sizes.
Lamborghini Museum (Museo di Lamborghini)
Address: Via Modena, 12, 40019 Sant'Agata Bolognese
Operating hours: Monday – Friday: 10:00 – 12:30, 13:30 – 17:00
Admission: 13 EUR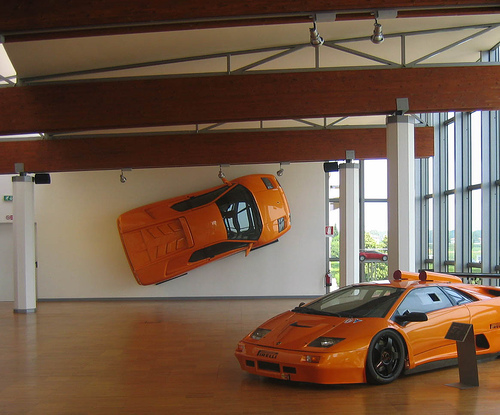 In only 30km from Bologna, the world's most coveted car (at least one of the most coveted cars) is manufactured! The museum of Lamborghini is located next to the factory of the same name and if watching cars isn't enough for you, you can pay additional 40 EUR and visit the factory itself!
On the first floor of the museum, the oldest models are represented including the very first one made by talented mechanic Ferruccio Lamborghini and the world's first car that overcame the barrier of 300 kilometers per hour. The second floor offers visitors to get acquainted with the most famous, successful and unique models of Lamborghini. Among them are the cars of Diablo series and special police cars.
Zoological Museum (Museo di Zoologia)
Address: Via Selmi 3, 40126 Bologna
Operating hours: Monday – Friday: 8:30 – 18:30
Admission: no charge
Being operating since 1860, the museum is considered one the largest and most significant zoological museums in Italy. Here you can see variety of animals saved in different methods. Unfortunately, not all exhibits have captions in English. In any way, if contemplation of different kinds of stuffed animals won't surprise you, you'll lose nothing, because admission is free.
Ferrari Museum (Museo di Ferrari)
Address: Via Dino Ferrari, 43, 41053 Maranello
Operating hours: Daily: 09:30 – 18:00
Admission: 15 EUR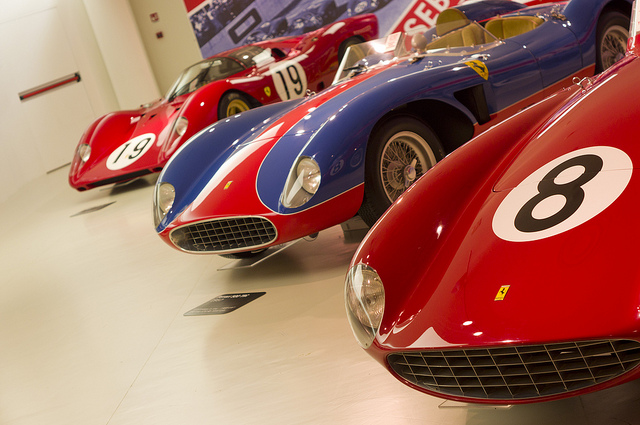 It would be unfair to describe Lamborghini Museum and forget to mention Ferrari Museum. So, let's restore justice! As in case of Lamborghini, Ferrari Museum is located in a small town of Maranello in about 55 km from Bologna. Here are located headquarters, factory and museums of Ferrari housing cars from different years including Formula 1 bolids. The collection of the museum also includes engines, wheels, equipment and trophies of racers, small car models, photos, etc.
A Few Words About Transport in Bologna 
Bologna has a well-developed transport system. It has railway connection with all major Italian cities such as Naples, Rome, Florence, Venice, Milan and Turin. Public transport is represented with about 50 bus and 3 trolleybus lines.
And this is great, but what if you want to discover Bologna surroundings or to visit the nearest cities? If you want to enjoy the freedom of movement then car rental is your choice.  By rental vehicle, you can easily get to the Lamborghini and Ducati museums without having to search for a proper bus or overpaying for taxi!
In addition to comfort and convenience that rental car brings you, you'll also get a nice opportunity to rent apartment not in the city, but in suburb, where are many beautiful cozy villas especially for tourists. Some of them have antique furnishings and surrounded by lovely vineyards and a few ones even have its own little ponds. It's very pleasant to stay here for a brake after a long interesting day spent in Bologna.