Summer is the season of pool parties, beach days and road trips. Now if you're one who likes to play up her lashes, you might want to consider buying a waterproof mascara just for the summer months. Why? Because nobody likes their makeup to run when they're having fun in the summer sun.
Regular Mascara vs. Waterproof Mascara
You may be asking, why can't I just use regular mascara? Well, sure you can! But if you know you're going to sweat or get wet, waterproof mascara is the way to go. Why's that? Get ready for a little chemistry lesson!
Regular mascara is made from water soluble ingredients like glyceryl stearate, polyvinyl alcohol, alcohol and water. That's why a simple splash of water makes it smudge so easily.
Now waterproof mascara is different, because it can only be removed by an oil based makeup remover. These mascaras have ingredients like petroleum distillate, polyethylene and carnauba wax in them. So the only way you can dissolve them is to use oil, which is the reason you can jump into the pool without worrying about raccoon eyes.
Is Waterproof Mascara Expensive?
I'm betting you probably don't want to spend too much money on a whole new summer eye kit. So look at affordable brands like e.l.f. or CoverGirl or go to your local drugstore and try on some mascara samples – you'll find plenty under $5. But if you really don't want to buy new mascara just for the summer, the Waterproof Mascara Top Coat from e.l.f.'s Studio line is perfect. It's a clear formula that can be applied over your regular mascara to seal it on. You can even use it on your eyebrows!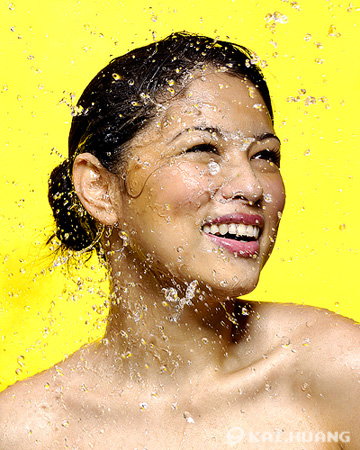 What About My Face and Lips?
Now that your lashes are going to be happily smudge-free all summer, it's time to talk about the rest of your makeup. The weather and your skin type is going to decide how much makeup you wear. In Florida's heat, it's probably best to keep your look light and avoid using heavier products. If you're prone to get sweaty no matter where you are, here's a quick guide to smudge-free summer makeup:
Start with primer or BB cream – these products are usually light-weight and smoothly even out the skin. Some even have SPF to protect against the sun's rays. Primer will definitely keep your makeup in place all day.
Skip the foundation and concealer – Stick to the basics. If you've already used BB cream, there's really no need for foundation. Concealer should be used only if you have a really bad breakout.
Bronzer – use it sparingly or not at all! You can get that sun-kissed looked after a couple of days at the beach.
Lips – forget that shiny lip look. It's a pain to maintain if you keep having to reapply it. So no lip gloss, instead use tinted lip balm or a matte lipstick.
Finish with a sealant spray – after you've finished applying your makeup, spritz some setting spray over your face. That way, everything stays in its place all day and all night! Here's a list of some of the best sealant sprays.
Waterproof mascara can be a god send for those of us who love our eye makeup. It keeps your lashes looking long and curly plus you won't have to worry about it running when you're busy playing beach volleyball. And don't forget, keep your makeup look light and finish with a setting spray to combat the ocean spray!