A leaky roof is probably going to be among the most common architectural issues you'll encounter as a homeowner, especially in rainier regions such as the Pacific Northwest. Stormier regions will also frequently suffer from roof damage, something that homeowners in the Gulf region know all too well.
What's worse with this sort of problem is that, left alone, it will only get worse and cause more than its fair share of property damage in the process. Repairing a roof is expensive, and will probably take at least a few days, but letting a problem grow will be even more costly.
You can try and claim money for your damaged roof if you have the right sort of homeowner's insurance on hand, but as we all know trying to get money from insurance companies is like trying to get a straight answer from a politician. However, there are ways that you can get your insurance company to pay for your new roof. It just requires a bit of know-how regarding how insurance companies work.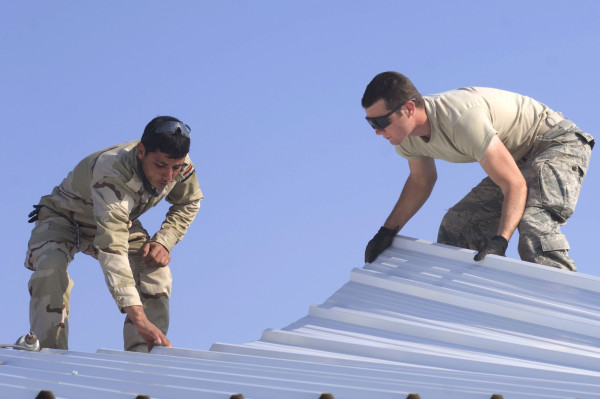 Before You Start, Check Your Policy
One thing all insurance holders should do before attempting to claim is to check their insurance policies. Doing so will prevent any embarrassing refusals because, your policy doesn't cover that type of damage, or because you accidentally violated your insurance policy through a certain type of practise, such as installing an unauthorised skylight.
So get out your insurance policy and go over it with a fine-toothed comb, and you should be able to immediately spot any potential obstacles towards filing your claim.
Determine the Cause and Source of the Leak
When suffering from a leaky roof, you'll want to do some of your own investigating as well. Ensure that you are familiar with your policy and try to determine what is causing the damage in the first place.
In some cases, this will be obvious. If you've had a major storm and a tree has gone through your roof, then you really don't need to investigate anything. However, it's more usually the case that a source of a leak will be hidden somewhere. Once you found the source, you can then determine whether you can pursue a claim.
It's also important to ascertain what's caused the leak because, in some cases, it may not be the roof at all. If a pipeline leading to a boiler in the attic has burst, for example, then your insurance company will probably not cover it. There may also be cases where some damage – such as hail damage – may not be necessarily covered by your insurance policy.
Document Evidence Supporting Your Claim
If the damage was caused by a storm or bad weather, make a note of the date and time that the weather blew in. This can help you by allowing you to corroborate your claim with weather reports and surveys. Big storms tend to be noticed by the meteorological community, and very well documented by official sources as a result.
Also take the time to go through the attic, and even to the rooftop itself if necessary, and take photos of the damaged sections of the roof. If there has been any damage to the rest of the house, such as water damage from a leak, take photos of that as well.
Make Sure You Contact Your Insurance Provider Quickly
Most insurance policies give you a limited amount of time to make a claim, after which the insurance company is no longer obligated to pay for it. Often it's fairly generous, but the sooner you make the claim the better. You can check your policy to see how much time you have.
Whatever the time frame, it's generally better to do it the day the damage occurs, or at least the day you first notice it. If you're ever uncertain whether you can still make a claim, just ask your insurance agent. They'll be happy to help out.
Required Estimates
You may be asked by your insurance company to provide written estimates regarding the extent of the damage to the roof, what needs to be done, and how much it will cost. Fortunately, most companies are happy to provide or put you into contact with approved surveyors and roofers to assist with this process.
Keep a roofing contractor like ReRoofUSA on hand when the insurance company inspects the building to act as an additional piece of evidence in favour of your claim.
Should you find yourself in disagreement with the estimate they provide, you'll have to hire an independent third-party to try and come to a different conclusion. If you do this, keep written records of every estimate you're given. Also, make notes about the name and warranty of the roofer you hire – your insurance company will want to make sure they're an accredited organization.
Do Not Be Afraid to Appeal A Rejected Claim
Being denied a claim is not necessarily the end of the matter. Your insurance policy will provide details on how to appeal a rejected claim. You can also do this if the quote you receive is lower than it should be. Make sure, however, that you've not overlooked anything that may have resulted in this. Should you be rejected again, you'll have to take the company to court if you want to keep pressing the claim.
Christian Mills is a family man and freelance writer who contributes articles and advice on various topics involving the home, from improvements and repair, to recipes and entertainment reviews.