We all know that planning a wedding can be expensive. Odds are you've already accounted for the photographer, florist, and cake. But there are plenty of little expenses associated with weddings that tend to be overlooked. If you're not prepared for those smaller hits on the pocketbook, they can add up quickly. Here are a few costs that might not occur to you while you're planning: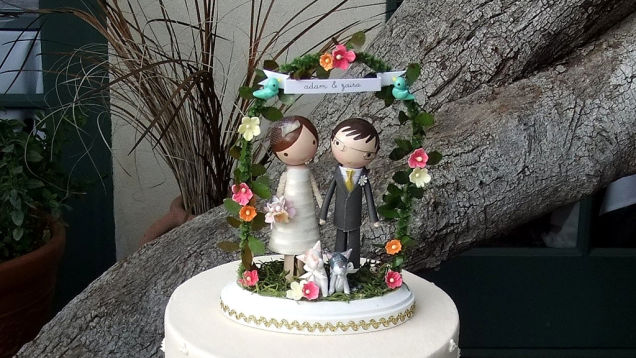 Mailing Invitations
On some level, you know that the invitations you're having printed (or printing yourselves) will need to be mailed. But keep in mind that invitations are usually a square envelope instead of a rectangular one, which means they'll have a higher postage rate than normal letters. They're likely to be a little over the weight limit for the cheapest postage, too. And keep in mind you'll need to stamp your response cards–you'll get a much higher rate of RSVP if you don't expect your guests to provide the stamp. Visit the USPS website to get an idea of what postage will cost in advance.
Dress Alterations
When looking for the perfect wedding dress, don't pick one that's at the very top end of your budget. Unless you happen to find a dress that fits your body perfectly, it will need to be altered. Expect to pay a couple hundred dollars to have straps shortened, bodices taken in, and hems raised/lowered. You might find a dress you can sort of fit into to try and save on alterations, but it's your wedding day: you want that dress to fit perfectly. And that takes a little more time and money.
Dress Undergarments and Accoutrements
While we're on the subject, the gown itself isn't the only expense for the bride's outfit on the wedding day. You'll want a brassiere and underwear that provide the proper fit and support to make the dress look the best it can be. And don't forget shoes, a veil, etc.
Gratuities
When it comes to a wedding, the quoted prices only go so far. You'll be expected to tip the caterer, the cake deliverer, the florist, and the band or DJ. Pretty much anyone who delivers stuff to your wedding or provides a service during it may have their hand out for a tip, so don't neglect it in your budget. On top of that, there can be unexpected "gratuities" in the form of bribery. Sometimes you need to bribe the venue manager to let you use your wedding sparklers if using them is against company policy. It's not really a gratuity, but it's definitely an unexpected expense.
Fees
In addition to the gratuities, many venues charge a fee for having a caterer on site, a cutting and plating fee for the cake, a fee for providing decor, et cetera. Then there's the officiant's fee and delivery fees for table and chair rentals or decor delivery.
When you're planning your wedding budget, it's good to leave a buffer of 10-25% just for those unforeseen expenses. You don't want to get to the big day and find yourself flat broke or over budget because you didn't count on the wedding favors or bridesmaids' gifts. It's best to budget everything that you can, but resist the urge to spend all the way up to your complete limit. That way, you won't be knocked flat when the tips and fees start piling up.