HTC is one of the oldest manufacturers of smartphones but its growth in the section of mid-range devices is not comparable to Samsung. But still you could find the good smartphones in its range for example the HTC Desire 510.
The battery life of the new mid-range Android phone is the best thing. The reason is simple: the combination of processor, low-resolution screen and a battery of 2100 mAh (highest burden than the model which replaces) allows you to get through the day with load is more than usual. Moreover, many time a day and a half long back up. And this entire is expandable using systems energy savings own HTC Sense.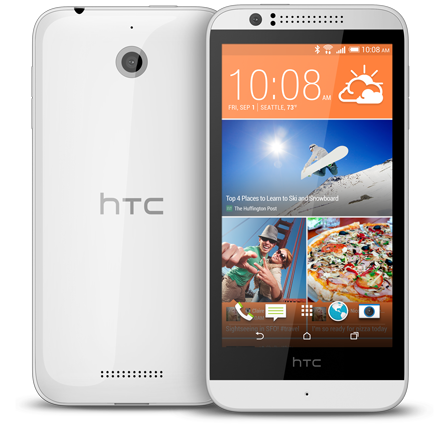 In the camera section, HTC Desire 510 has the main camera of 5MP and VGA front sensor. It is greatly surpassed by other models. So, here the phone simply provides ability to get out of any trouble or as occasional entertainment, but with results that do not stand out, much less. These results, compared with other models in its segment, are of a standard that complies with "hair". We say this because the intensity of the colors is not the best and also clearly seen noise (especially if the zoom is used). Besides, we must say that sometimes distorts the brightness and therefore, when the amount of light is low is not very good place the device despite the inclusion of a surprisingly powerful flash. The application software of camera is standard for this company, so that the HTC Desire 510 offers advanced options most interesting to "play" with them. An example is the enable HDR Mode; manage white balance and even the ISO to use. As for the recordings, the results confirm the tight quality camera but reveal on one hand the speed of autofocus, the best in its segment to be found and no blur easily.
The truth is that the HTC Desire 510 is a basic model, almost in excess in these times, but can be a solution for less demanding seeking a screen near the 5 inches. Furthermore, the inclusion of 410 Snapdragon processor makes it striking, especially with the possible and necessary arrival of Lollipop operating system. The truth is that performance is not bad. Yes, has an aspect that it needs improvement to become a suitable option, which is expected to happen in its successor. The clearest examples are the screen, that as little should be at 720p, and a camera that is much more competent. Yes, the user UI the Sense is always positive, since it is an interface as intuitive and easy to handle.
Pros of HTC Desire 510:
Its 64-bit processor
Includes 1 GB of RAM
Cons of HTC Desire 510: 
Design
Not very good sound quality
Improved screen
Now HTC is moving towards it success line as two of beasts are scheduled for release, one of which is HTC One M9 and another one is HTC One M10 release.