There is nothing quite as relaxing as sitting on the sandy beach, watching the ocean's surf roll in, smelling the salty sea air and soaking up the warmth of the suns rays glistening on your skin. I believe the word you are looking for here is, paradise.
Naturally, many of us are enduring cold, winter months and the above paragraph paints a picture that is far from our reality of shoveling snowy driveways and throwing another log on the fire! That doesn't mean you can't bring the warmth of the beach to your home. Here are a few tips for creating a California dream to your home's decorative theme.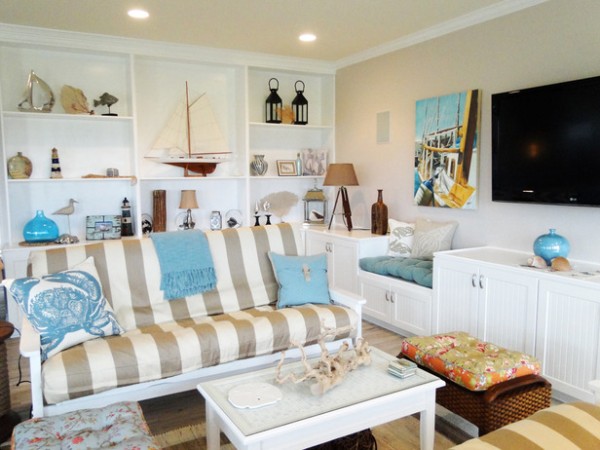 Color Theme
The first thing you need to take into consideration is the color scheme you will utilize throughout your home or individual room you are looking to capture the feeling of the beach in. Warm, sandy, earth tones; bright, sunny yellows and a plethora of ocean blues and greens, are the best palette of colors to choose from.
Softer woods such as oak and pine, or even painted white furniture pieces, are perfect for creating a base for your atmosphere. If you are feeling a bit daring, consider painting an accent wall with either a bright, sunshine yellow or deep, ocean blue.
Main Focal Points in the Room
Are you carrying this theme throughout your entire home or are you looking to capture it in only one room? There are main focal point pieces available for all areas of the home. For a bedroom, naturally, the bed is the main focal point of the room. Choose a bedding set that is designed with sea themes such as seashells.
The bathroom's main point of focus, is the shower curtain. Choose a palm tree print or oceanic creatures. Coordinate your towels and rugs to fulfill the beaches decorative theme. If the kitchen is part of the plan, consider decorating with beach printed curtains and again, match towels and rugs to help boost the beach in the room.
For main living room quarters, you can find sofas and chairs that have seashells and ocean creatures as a print; however, if you choose to utilize pieces that drastic, be sure not to overdo it with the accessories in the room. If you prefer to have seashells, ships and beach wall tapestries and paintings in the room, consider furnishings that are neutral to the prints but fit into the color palette you have selected.
Room Accents
You can't have a beach themed home without seashells! If you are privilege to living by a beach, it is more fun to go out and hand pick your treasures; however, if that is not something you are privilege to, you can purchase bags of shells and use them in your decorum in a plethora of ways.
Sand is another fun accent. Use a ceramic bowl, or even a seashell shaped bowl and fill it with sand, shells and some tea-light candles for a decorative accent piece.  Ships in a bottle are fun additions to a shelf in the room. Beautiful, art pieces or wall hangings are a great way to add beach scenes into the room.
A basket on the back of the toilet or organizer above it with seashell shaped soaps is a fun, decorative tool. There is a variety of candles that cater to the color palette and some even come in ocean themed scents. The possibilities are endless.
+Jodi Call  provides an affordable collection of home furnishings, bedding, kitchen and bath accessories at bedbathstore.com