Blizzards are one of the most dangerous forces of nature. Power outages, downed electrical wires, deep snow, low temperatures and collapsing structures are all very real dangers of blizzards that can lead to severe injury or even death. The best way to combat the frigid power of mother nature is to ensure that you take proper safety precautions at home to stay healthy, warm and safe.
Take Note of Everyone's Whereabouts
Everyone should be inside of the house at all times during the storm. Preferably, everyone should also stay indoors before the storm hits and for a while after it ends. Snow drifts can easily make someone lose their visibility even if they're mere feet away, causing anyone to quickly get turned around and lost in the storm. Snow can also accumulate very quickly and temperatures can drop like a rock, making it a significant risk of getting trapped in the snow or getting hypothermia.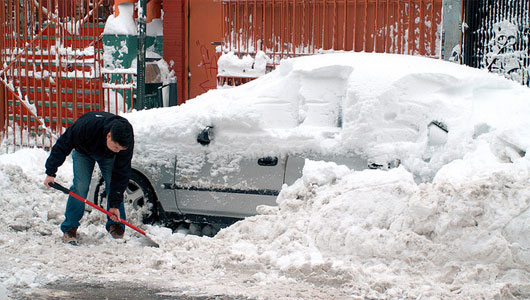 Have a Backup Heat Source
If the power goes out, so does the heat. Without a proper heat source, even people indoors can succumb to the effects of hypothermia very quickly in a blizzard. Your backup heat source should be propane or wood fueled to allow it to work without electrical power. Electric heaters and pellet stoves are only a viable option if you have a powerful enough generator to power them, but it's still safer to use either wood or propane.
Buy a Generator
Even having simply having enough power to run a few lights or the refrigerator can be a life saver during a power outage. Ensure that you keep the generator properly maintained, fueled up and within an easily accessible range of the house. Keep it in a properly ventilated area to avoid building up fumes.
Watch or Listen to the Local Weather Reports
The local weather station can not only give you a good idea of when a storm will be arriving, but it can also give you an indication of its intensity, where it's going, where it is currently and if there are any emergency notifications.
Stock Up on Supplies
You never know just how bad a storm will be or how long it will last. You could end up being snowed in for days and many roads could be closed due to the weather. Make sure you have plenty of candles, flashlights, batteries, canned, vacuum sealed or dried food, bottled water, and any specialty supplies like diapers, baby formula or medicine on hand before a storm hits. It's also a good idea to ensure that you have a fully stocked first aid kit nearby in case of an emergency.
Charge Cell Phones
Your cell phone can be your one line of communication to friends and family during a blizzard, and it could save your life in an emergency situation. Ensure that it is fully charged before a storm hits, and refrain from using it as much as possible to conserve the battery.
Keep a Roof Rake Handy
There's only so much snow a roof can handle. Even the most rugged structures can collapse after a good dose of heavy wet snow during a blizzard. A roof rake can quickly rid a roof of hundreds of pounds of snow from your roof. Even if you're unable to clear the whole roof, getting rid of some of it may prevent a costly and incredibly dangerous collapse.
Charlie Teschner started MESA Plumbing, Heating, and Cooling in 1982. Charlie has a journeyman and master plumber's license. He was raised with a strong work ethic and he now applies those values to tasks such as Boulder heating repair.