The sea. An endless terrain for you to explore at your pleasure. Limitless, often peaceful, just you and the water. But much like with driving, there's a lot you should know before taking that first step onto your boat, both in terms of safety and to just really get the most out of your experience on-board. So if you're a budding skipper, here's a short guide to how you can get into sailing.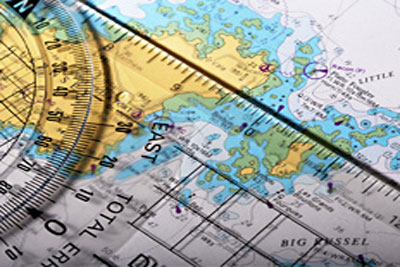 WHERE'S MY SAT-NAV?
Sailors have a proud tradition of navigation and seamanship, and this isn't something which is simply learned overnight. There are several courses available online for you to learn about navigation, from basic to more comprehensive, and these can be taken at your convenience, which is perfect for those unable to find the time to actually get in a boat and find somewhere to sail it.
These courses are offered by the Royal Yachting Association – Britain's national body for all forms of boating. And once you've completed these, there are various other courses you can find which don't require masses of commitment. The RYA offer a wealth of one day courses to help you understand more specialised areas of sailing. RADAR, First Aid, Marine Radio Short Range Certificate – the choice is extensive, and all of these courses will contribute to making you an expert in the field.
THEORY
Once you've familiarised yourself with navigation, and everything else you need to learn alongside the actual physical control of a vessel, there are several theory courses to help you on your way. In terms of commitment, these require a little more time. For example, the RYA day skipper theory takes five days or two and a half weekends. But at the end of it you'll have enough knowledge to navigate familiar waters all day long.
From here, you can work your way up towards becoming a Yachtmaster, and even an Ocean Yachtmaster. The qualifications get more prestigious as you work your way up, but this shouldn't be daunting. All the smaller courses you have taken will be playing some part in working towards this end goal, so if anything taking even the most basic courses should be quite exciting. Just think of the possibilities!
Alongside this, at any time you can familiarise yourself with sailing theory on various websites which list the basics of sailing, navigation and communication. From hereon you can even test yourself, pressure free, to see if you're ready to take the next step up, or even just to see if it interests you enough for you to devote more time to sailing.
The open sea is a big, big place. But thanks to the internet, it's now a little easier to understand. And before you go exploring the sea itself, the RYA and other affiliated sailing groups can help you prepare yourself for your subsequent adventures. No matter if you're just showing a casual interest, or you're ready to work your way up to Yachtmaster, the path is there for you to follow online.
Peter Dance is the Director for Sailtrain which offers online courses for navigation and seamanship.