All across the United States, people are unearthing treasures with their metal detectors. Some just have beginner's luck and others are veteran metal detecting enthusiasts. With a quality detector, a small amount of knowledge and some patience, anybody can find hidden metal treasures. It's easy to learn about techniques and types of treasure hunting.
Discover a fun family hobby!
Do some reading and you will discover lots of great articles on the hobby. You can literally delve into the fascinating hobby of metal detecting. Online you'll find dozens of articles that cover topics such as meteorite hunting, how to unearth antiques, digging and retrieval methods; as well as why this hobby is perfect for kids and seniors.  So, if you have questions before buying a metal detector or want to know the top places to start metal detecting—this information is readily available.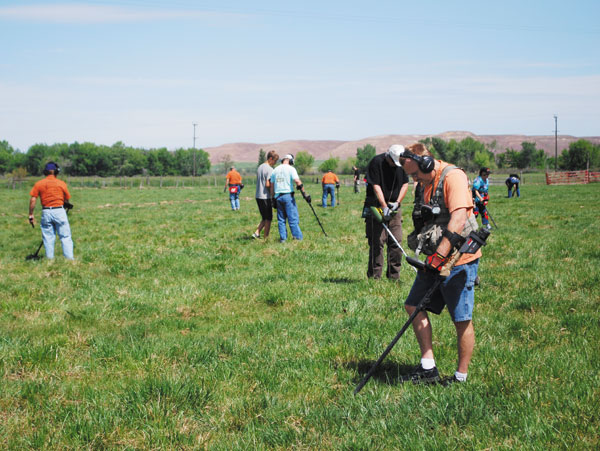 Recent Metal Detecting Finds Across the Country:
From coast to coast, there are metal detecting clubs and associations made up of thousands of detectorists. Many of the members report their finds at monthly meetings. Not only is this inspirational to other hobbyists, it proves that there is hidden treasure underfoot no matter where in the country you live. Here are some recent treasure finds from different regions of the U.S
Topeka Treasure Hunters: Topeka, Kansas—publication: We Dig It
1883 penny, 1867 penny, WWII ID bracelet, U.S. Good Conduct Medal, antique Matchbox toy car
Puget Sound Treasure Hunters Club: Tacoma, Washington—publication: Digging Washington
Washington State tax token, 1939 Polish grosz, 1865 German weight scale, 10K diamond bracelet
North Coast Historical Recovery Association: Painesville, Ohio— The Silver Dollar News
1908-D Barber half, 1898-O Barber half, 1866 2¢ piece, 14K gold three-carat ring, 1867 Indian head cent
Putman/Westchester Metal Detectorists & Archeological Club, Inc: Yorktown Heights, New York—publication: The Hudson Valley Explorer
1852 3¢ piece, 1809 Classic Head large cent, Huntington CT. dog tag, gold-plated Seiko watch
Illinois & Iowa Treasure Hunters Club: Genesco, Illinois—publication: The Dirty Five
1907 $5 gold coin, 1880 Indian Head cent, silver thimble, gold pocket watch, 1850 Chinese coin
Dicover your own family fun:
Now that you're excited about other people's finds, you want to set out with a detector, right? That's understandable. Metal detector hobbyists want to do little else in their spare time than treasure hunt. If you are just getting started in the hobby and aren't sure which type of detector to purchase, try a quality multipurpose unit. They are designed to find coins, jewelry, relics and gold. You can use a metal detector on land or even in the water.
Some multipurpose detectors are also submersible in up to 10 feet of water, so you can hunt beaches, shorelines, snorkel or hunt riverbeds without concern about water exposure. Once you've narrowed it down to a few models it is now time to do some comparison shopping. A metal detector is a great investment and should pay dividends for years to come!   In summary, you will want to make sure that you budget for a quality model to get started with.
Keep in mind that you will also want to get a handful of accessories as well. SOme of the top accessories include a digging tool or beach sifter, a carry bag and a quality set of headphones. You might also want to consider a handheld pinpointer. No matter which items you start with, the new treasure hunter on your list is bound to have fun. It is a neat hobby that offers everyone the chance to learn about history while getting in some unexpected excercise.
About the author: Michael Bernzweig manages MetalDetector.com in Southborough, MA. He has written extensively on the subject of metal detecting since the mid 1980's. He has traveled world-wide in his pursuit of educating, exploring and advising others in the proper use of metal detectors. Outside of the business he enjoys mentoring students, being involved in the community and spending time with his family.