Since the global financial crisis of 2008, the average under 30 year-old's economic outlook has been fairly bleak. However, in the past year or so there have been some promising signs that this might get better. Still, with a far higher amount of under-30s renting or still living at home than in past generations, clearly this is of concern to many. And many younger people will be asking just when exactly they'll be able to own their first home.
The Stumbling Blocks
Up until the property bubble burst in 2008, house prices had been rising at an average of 4.5% per annum for twenty-five years. And whilst since then house prices have fallen by around 1.5% on average, houses are still unaffordable for most. When the recession hit, many, particularly those new to the job market, were hit by unemployment or reduced wages. Six years later and that still hasn't entirely recovered. And at the moment, prices are still far higher than wages.
This has led to what is referred to by the tabloid press as 'generation rent'. With young people unable to afford a house of their own, they instead end up living in rented accommodation or even at their family home for a far longer time. The problem with rented accommodation is that you're unable to save as much due to monthly rent costs.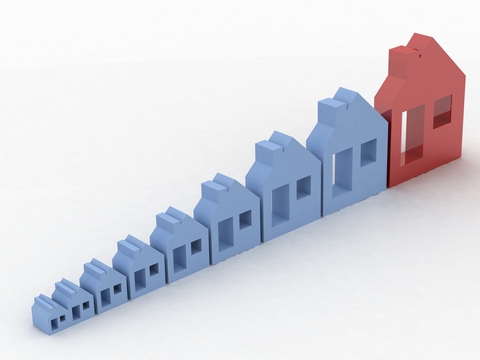 And, due to the sub-prime mortgages being handed out before the recession, mortgage providers are now (rightly) more cautious about who they support. Therefore deposits are high, with some journalists predicting those under 30 may have to save for as much as thirty years before they can afford their own property.
Signs of Improvement
However, there are signs that things are improving. Although, as mentioned, house prices are still generally high and off-putting to new buyers, they are slightly more affordable than before. And while maybe not at a 'thirty-five year high' level of affordability as this article attempts to disprove, slightly higher wages and lower house prices mean prospects are better now than in the last five years.
The government has acknowledged this problem, and has vowed to create much more affordable housing in the future. This could potentially benefit those 'generation renters' who may have been worried about having to wait up to thirty years for their first property. Alongside this, the government launched 'Help to Buy'.
Whilst not exactly positively received by everyone, the scheme has helped some young people into the market, with 750 completed purchases by January 1 2014. Help to Buy theoretically allows buyers to put down a much lower deposit on a house, meaning they don't need to save for as long or continue to 'waste' money on rent.
Other such schemes exist, particularly those associated with local councils. And whilst technically you won't be owning the house entirely by yourself, it's a start. It would also help to look around different areas for your house. There are many different housing markets in the UK – there are many different housing markets in London alone! – but if you're prepared to move further away and perhaps spend more on commuting, then you are more likely to find a house within your budget.
All in all, it is difficult to predict how house prices will change for young people in the future. Undeniably the past five or six years have been particularly difficult, and it won't change overnight. However, the signs are that things are improving, gradually, and when Britain has recovered from the recession, the economic forecasts may be significantly better. This is all theoretical though.
And instead, it may be better to do all you can to save more than before, to slightly adjust your expectations for your first property, and to closer inspect some of the schemes available to help you onto the ladder.
Gavin Hockett is the Branch Manager for one of the leading estate agents for the Essex area- Balgores Romford Sales. Gavin has over 10 years' experience in the industry and his knowledge of the Essex area is outstanding.