Bed bugs could easily crawl out of one house and into another. These hardy vermin have been evolving for millions of years to feed on mammals and procreate around them. They are just small organisms who don't create complicated strategies and think. They simply jump, hop and fly around. Regardless of their sizes, bedbugs are very tough animals and they can survive for months without eating.
As part of our home improvements efforts, we should limit the distribution of bedbugs in our house. There are simple precautions that we need to consider, here are a few of them: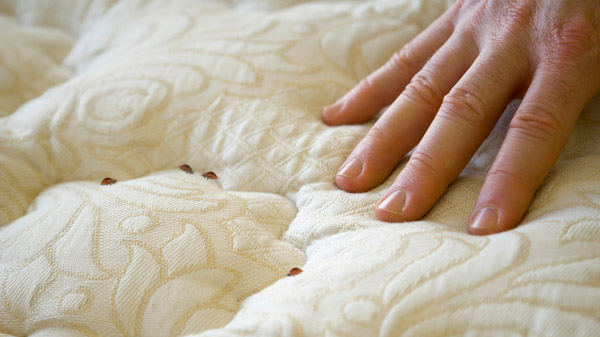 Don't bring second-hand objects inside the house. These may include stuffed animals, couches, mattresses, pillows and others. If we need to do this, it is important to put the item into an hour of hot drying at high heat. This should be able to sanitize bedbugs along with their eggs.
Pay attention into common areas. Bedrooms and laundry rooms should be considered as potential enemy territories. Bedbugs could hitch a ride into your friend's sweater and the critters will simply jump into our couches. It is important to properly clean the living room after many friends visit our home. Laundry room is also a place where bedbug infestation may spread.
Any items that we have put into dryer on high heat for about one hour should be free of bugs. We should never let any sanitized items to contact with clothes or other things that may have bedbugs in them. We should be aware that only hot air can kill bedbug eggs, not hot water washing.
Put anything inside well sealed industrial-grade garbage bags. These bags are probably the easiest way to prevent bedbug infestations. Seasonal clothes, cushions and luggage should be packed inside these bags when we don't use them for a period of time. We should be able to prevent infestation by using this method. This way, we don't need to thoroughly clean anything that has been stored inside sealed bags.
Be aware of things that happen inside the building. If we are living in an apartment, we should know neighbours who are being plagued by bedbug infestations and if possible help them to eradicate it.
As part of our home improvement effort, we should look for ways to eradicate these critters. DE or diatomaceous earth is often our first line of defense against these bugs. DE is essentially diatoms with tiny exoskeletons that have been made into fine powder. These powders are made of sharp particles that can scratch small bugs. While we can't feel its effect, the waxy protective coating of exoskeleton will be torn after repeated contacts.
DE is considered as an effective non-toxic method to deal with bedbugs and other small creatures. However, DE powder shouldn't be inhaled because it can irritate our respiratory system. Use adequate face mask when using DE. Applicator and squeeze bottle duster is usually available from the store that sells us the DE powder.
The Author's hobbies includes playing football, video games and learning small business seo services tips and tricks